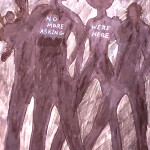 PICKET & SPEAK-OUT!
EXECUTIVE CONSTANTINE DO YOUR JOB! RACISM IS A PUBLIC HEALTH CRISIS AT KING COUNTY!
Since July, Dow Constantine has refused to acknowledge or meet to discuss demands that address the epidemic of racism at King County's worksites. Since he has refused to meet, OWLS is bringing the meeting to him.
Tuesday, October 6, 4pm
Offices of King County Executive Dow Constantine
Chinook Building, 5th Ave & Jefferson St., Seattle
We Demand:
Immediate action to stop racist threats and harassment at King County worksites
Restitution for all who have filed complaints on racism without satisfactory resolution; establish an independent office of equal rights for complaints
Affirmative Action in hiring, training, promotion. End nepotism!
Healthy worksites and PPE for frontline workers
Stop lay-offs and service cuts by taxing King County's super wealth
Stop union-busting, honor workers' rights
Sponsor: Organized Workers for Labor Solidarity
To endorse or for info: email OrganizedWorkersls@gmail.com Or call 206-819-2279.
OWLS Meeting on Friday, October 9 will discuss this campaign and next steps. To attend, register at bit.ly/Register4OWLSCheck-In.