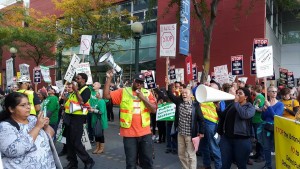 Mark your calendar! 
Last year, Several-hundred people turned out for a labor-community picket of the annual gala fundraiser for the "Freedom Foundation." OWLS is cooking up plans to make their banquet the scene of an even bigger protest this year. If you can help, call OWLS at 206-949-4552. Or come to the OWLS Meeting on Tuesday, September 25 at the Seattle Labor Temple, Hall 6, 2800 1st Ave., at 7pm.
The protest against the Freedom Foundation will be on Friday, September 28, 4:30-6:30pm in front of the Bellevue Hilton Hotel, 300 112th Ave SE.

Stay tuned for updates!