OWLS Meeting: Tuesday, September 28th, 6:30pm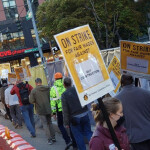 Across Puget Sound, union carpenters are on strike for a fair contract. This is their first strike in nearly two decades, and they are demanding raises and benefits on a par with what other building trades have won over the past year. General contractors are making money hand over fist during this construction boom and carpenters want a share of that money to keep up with inflation.
Rank-and-file carpenters will lead a discussion on strategies to strengthen the strike and ways that labor and community can show their solidarity.
Also featured: an update and discussion on winning MLK Labor's endorsement of the campaign to Root Out Racism at King County and Beyond!
Join the meeting via zoom at bit.ly/Register4OWLSMeeting.