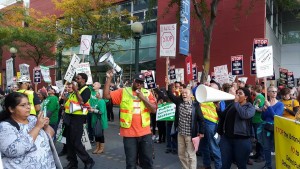 Over 500 enthusiastic labor activists flooded the streets around the luxury Westin Hotel in downtown Bellevue on Friday, September 29 to picket the annual fundraising event of the anti-union Freedom Foundation. Organized Workers for Labor Solidarity (OWLS), a group of rank-and-file activists from several unions and unorganized workplaces, planned the event that was endorsed by more than 25 labor and social justice organizations.
The Freedom Foundation's rightwing agenda openly declares its aim to "defund and bankrupt public employee unions." Other objectives include undermining wages and labor standards, gutting anti-discrimination legislation, removing environmental protections, reducing LGBTQ and women's rights, and blocking taxes on wealth. OWLS organized the protest to defend threatened communities and to raise public awareness.
The public turned out with a rich diversity of race, national origin, age and profession. Hard-hatted carpenters walked the picket line with teachers, painters, laborers, engineers and janitors. Upbeat chants were echoed by tradeswomen, public workers, socialists and Wobblies, and parents with children of all ages. Picket signs and colorful banners from unions, retiree groups, and community organizations demanded "Stop the War on Workers" and other slogans. Huge inflatable effigies of greedy rats and "fat cats" added to the upbeat mood.
Rally speakers pledged to counter the Freedom Foundation with solidarity. OWLS spokeswoman Maxine Reigeltold the crowd, "It is not a foregone conclusion that Trump and his alt-right backers can push through 'right to work' laws. Let's take a page from Black, brown, and female union members – from farmworkers to professional athletes – who have galvanized mass support by taking a stand and refusing to back down. Organized labor has the power and resources to mobilize a mighty counter-offensive that can stop the Freedom Foundation in its tracks."
Pedro Espinoza, an organizer with the carpenters union, quoted Martin Luther King on the need to "guard against false slogans such as 'right to work.'" He urged the crowd to continue  building a movement capable of standing up to the increasing menace of fascist and far-right groups.
The Communications Director of the King County Labor Council, Kamaria Hightower, referred to the Supreme Court's announcement the previous day that it would take up Janus v. AFSCME, a case that seeks to drastically weaken public sector unions. Said Hightower, "They have no idea what is coming for them. They have no idea how strong we are. We stand united, we stand in solidarity, we are going to fight with tooth and nail for everything we have."
Over the last year, OWLS has confronted the Freedom Foundation in numerous locations. It invites unions, community organizations, and individuals to help build the campaign by attending monthly organizing meetings held every fourth Tuesday at the Seattle Labor Temple. The next planned action is to pack the courtroom this fall when Freedom Foundation lawyers challenge Seattle's new high-income-earners tax in King County Superior Court
Endorsers of the Freedom Foundation protest: A. Philip Randolph Institute, Amalgamated Transit Union Local 587, American Federation of Government Employees Local 3197, American Federation of State, County and Municipal Employees Local 1488, Central Puget Sound Carpenters Local 30, Dyke Community Activists, El Comité, Freedom Socialist Party, International Brotherhood of Electrical Workers Local 77, Northwest Regional Boycott, Divestment, Sanctions Coalition, Not This Time, NW-SPEEA/IFPTE Local 2001, Office & Professional Employees International Union Local 8, Olympia Industrial Workers of the World (IWW), Pacific Northwest Regional Council of Carpenters, Professional Technical Employees Local 17, Puget Sound Advocates for Retirement Action, Puget Sound Chapter Coalition of Black Trade Unionists, Radical Women, Retired Public Employees Council Chapter 3, Rosie's Machinists 751 Caucus, Seattle Gay News, Seattle Human Services Coalition, Teamsters Local 117, Transit Riders Union, Washington Federation of State Employees Locals 304, 341 & 843, Washington Interior Exterior Systems Local 41.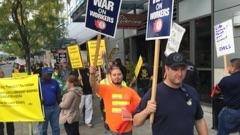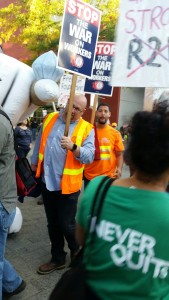 To see more photos and video footage of the picket and rally, visit OWLS on facebook at Facebook.com/OrganizedWorkers.